Starting a business from home will save you the cost of renting office space. But what if you don't have enough room in your current house or apartment to set up shop and be productive? Here, we offer you four strategies to increase your living space and grow your small business:
Upsize Your Home
Do you have unused space in your house that can serve as your company's HQ? Some entrepreneurs decide to turn a spare bedroom into a home office or convert their garage into a private workspace. But if your current home is too small to accommodate both your family and your new business, think about upsizing and looking for more square footage. Before you go looking for your dream home, take stock of your current financial situation and calculate how much house you can afford while still having enough to invest in your growing business. A move to the suburbs or a more remote area may allow you to stretch your budget further, but make sure you'll still have easy access to the services and amenities you need, such as shops, schools, and medical facilities. Working with a reputable real estate agent is your best bet for finding a property that will fit your requirements.
Rent a Bigger Place
If you're a renter, moving to a different neighborhood can sometimes mean saving in monthly rent while gaining in livable space – and maybe having extra room for an office. So look for houses or apartments suitable for your family and your work. Go online and check out rentals in different areas, then compare square footage and amenities to find the most affordable options. Take into account the services available close by, and inquire about the school district if you have children. Also, make sure you'll have fast and reliable internet service available, so you can run your small business efficiently.
Set Up Your Business
Once you've decided on your new location, get the ball rolling when it comes to establishing and setting up your new company. Pick a business structure that is light on paperwork yet gives you advantages such as pass-through taxation and limited liability. An LLC is often the best choice for small business owners, and they can work with an online formation service to avoid costly lawyer fees. Don't neglect to appoint a registered agent to handle legal documents on your behalf; that person will act as your point of contact and receive official notices and communications, so you may want to use a registered agent service that's always available during regular business hours.
Market Yourself to Grow Your Business
Help your new business grow by introducing it to other entrepreneurs in your area. Participate in local events and join the chamber of commerce so you can start networking with the movers and shakers in your city. Use a tried-and-true marketing method to help people you meet remember you by handing out business cards bearing your logo, name, and contact information. So when you have your new company set up with a professional website, email, and phone number, give this a try to create an eye-catching business card: it's free, and it will only take you minutes to come up with a personalized design that will leave a lasting impression.
Don't fret at the thought of moving house while starting a business. Instead, rely on professionals to make the process smooth and easy! Renting a home can even help you with your cash flow as you grow your new company, so explore all your options and make the smartest decision for yourself and your family.
Whether you're buying or selling, there is no substitute for an exceptional, knowledgeable realtor. So contact realestatebyarrow.com for a unique concierge-style approach to real estate transactions; we deliver great results to all our clients.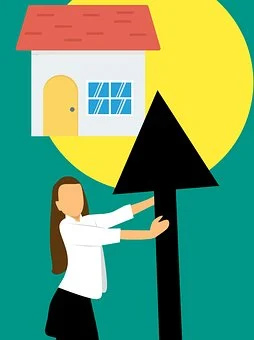 Image via Pixabay